How to Write a Business Plan for Baking Business
For Cakers
Creating a solid plan is of paramount importance if you're thinking about starting your own home baking business, no matter how big or small. It's like a roadmap that helps you set goals, prepare for challenges, and get the funding you need.
But hey, if you've never made one before, it can feel pretty overwhelming. Don't worry, though! In this article, we will compose a sample of a home baking business plan and guide you through the essential steps of creating it yourself. We aim to give you all the insights and knowledge in a concise manner to understand what this plan is all about!
Baking business plan definition
Just like any other business plan, a baking business-oriented one is a comprehensive document. Regardless of the venture's size, a home-based bakery business ought to rely on a solid plan. This way, as a business owner, you will be able to track profitability, attract investments and see ways to improve it. 
The plan we will discuss next consists of vital elements of planning, starting, and running a baking business. Here are the core aspects of which it consists.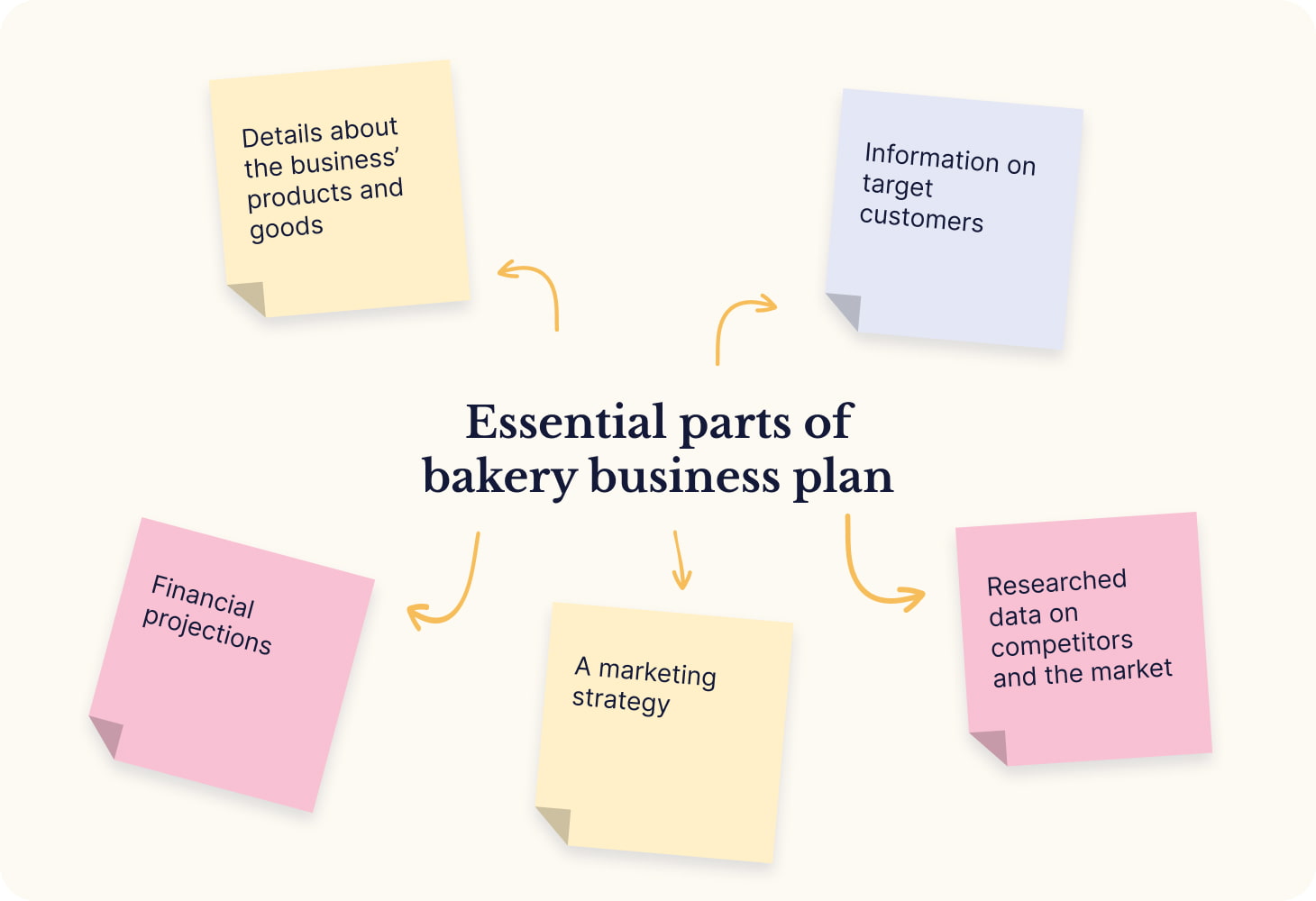 Details about the business' products and goods;
Information on target customers;
Researched data on competitors and the market;
A marketing strategy;
Financial projections.
Apart from these, there are other aspects of a home based bakery business plan to consider. Nonetheless, even those mentioned can form the basis for a reliable plan to grow your business.
The importance of a baking business plan
Mainly, it is created to help the owner or entrepreneur think through all the important aspects of the business, identify potential challenges, and come up with a strategy for success. A well-crafted bakery business plan can also serve as a roadmap for the company's growth and development. It can also be used to secure funding if required. Let's take a closer look at three main reasons why you shouldn't overlook it.
Reason 1: it provides clarity and focus
Composing a bakery business plan helps you clarify your goals and objectives, as well as focus your efforts toward achieving them. With a good plan in place, you will have enough room to think critically and strategically in several major areas:
About the market, you are targeting;
About the products you are offering;
About the resources, you need to succeed.
After all, a clear understanding of your baking business's mission and vision can help guide your decisions and actions. Not to mention how helpful it is in ensuring that you stay on track toward achieving your goals.
Reason 2: it identifies potential challenges and solutions
Starting a bakery business plan helps you identify potential obstacles that you may face so that you can minimize any surprises down the track.
The plan allows you to anticipate problems even before they arise and develop strategies for dealing with them.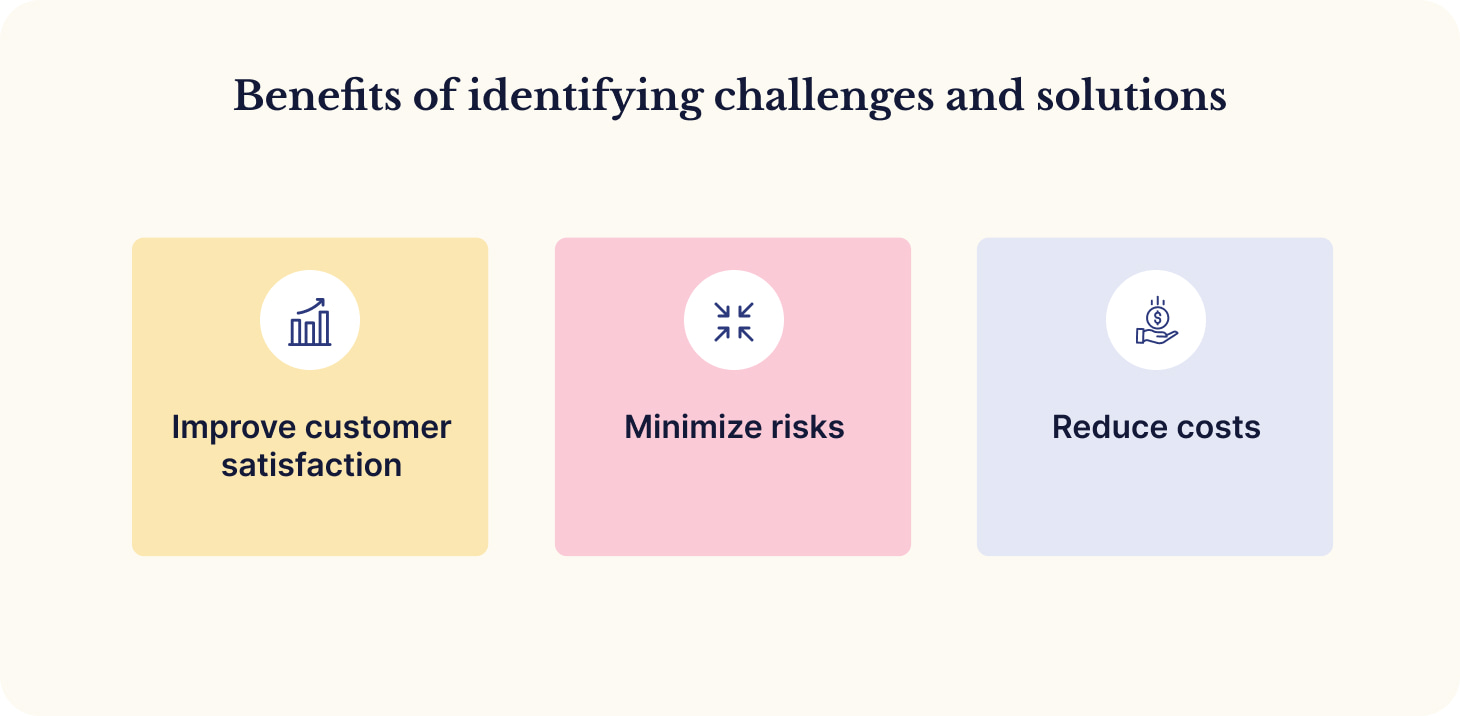 Overall, identifying future challenges and solutions can help you in several ways. 
Improve customer satisfaction. Proactively addressing issues before they become problems is highly appreciated by the users. For example, your business plan may include predictions of customer complaints or reactions related to long wait times during peak hours. Hence, it creates room for you to develop an improvement plan for staffing or queue management. By doing so, you can improve the overall customer experience and boost loyalty.
Minimize risks. Facing potential challenges and working on how to resolve them, you can greatly minimize the risks associated with running a bakery business. For example, a detailed plan can help you identify a potential shortage of certain ingredients and help to secure alternative sources or adjust your menu. By doing so, you can avoid the negative impact that a sudden disruption in your supply chain might have on your business.
Reduce costs. Developing solutions to potential challenges can also help you reduce costs associated with running your bakery business. For example, you may identify an opportunity to reduce waste and save money by adjusting your inventory management system. By doing so, you can lower your operating expenses and increase your profitability. 
Reason 3: it attracts funding
The financial aspect is another pillar in every business's foundation. A well-written and detailed bakery business plan can be a powerful tool for attracting funding from investors or lenders. Why? Because it demonstrates 
That you have done your research,
That you have a clear understanding of your market and competition,
That you have a solid plan for achieving your goals with outlined objectives.
On the contrary, it would be difficult to attract any investment if your business is experimental, and it 
Looks unreliable and doesn't present something new to the industry,
Has no clear plan for growth and expansion,
May not stand the test of time,
Has too many open issues.
Lastly, learning how to write a home-based bakery business plan sample can also help you estimate the amount of funding you will need. With its help, you can figure out the minimum you need to start the business, an optimal amount to support and run it, etc.
Do you bake custom cakes and look for a community of colleagues and clients? Join CakerHQ! Sign up here
Now, let's shift our focus to the essential steps you need to take to create a reliable and cohesive business plan. For even more convenience, we'll organise them in points and tables. 
Steps to Create a Baking Business Plan
Now that we walked through the importance of the business plan, let's take a look at the steps to create it. We'll carefully review each of them and see how they correlate to the entire home based bakery business plan template. 
Executive Summary
This step is the very beginning of the documentation to start a baking business plan. It should be first in the list but written last once you complete all the next parts, just like the contents of a book. 
The purpose of the executive summary is to provide a concise overview of your plan. It highlights the most important information about your business. It consists of the steps we'll review next.
Business Description
This part of the plan provides a detailed description of your bakery business. Normally, it includes numerous parts. Here are the main ones.
| | |
| --- | --- |
| Aspect | Description |
| Legal Structure | It describes the legal structure of your business, whether it is a sole proprietorship, partnership, limited liability company (Pty Ltd), or corporation. |
| Compliance | Detail the local laws and regulations, such as local council registration and business licenses you have (or will need). |
| Ownership | It contains information about the ownership structure of your bakery business, including who owns the business and the percentages of ownership between partners (if any). |
| History | Includes a short, concise history of your business. It includes an overview of how it got started and your achievements to date. |
| Goals | This part describes the short- and long-term goals you set for the business. It also includes a growth plan and expansion strategy. |
| Mission Statement | Contains a clear mission statement that communicates the purpose and values of your bakery business. |
| Products and Services | Contains a detailed description of your baking business's products and services. For example, this section has all information about pricing strategy, menu, packaging, etc. |
| Location | This step just includes the information about the location of your bakery, its physical address, its layout, and its size. |
| Facilities and Equipment | Outlines all tools and equipment your business requires to operate. They typically include display cases, refrigerators, computers, ovens, mixers, and other appliances. |
| Suppliers | This part contains documentation about your key suppliers and any contracts. It includes the pricing you agreed on and delivery terms. |
| Employees | Describes the staffing requirements of your business, including the number and types of employees you will need, their qualifications, and compensation. |
Products and services
In a home based bakery business plan sample, you describe in detail the goods and other products or services you will offer to customers. Let's take a closer look at the most important aspects of your offering.
Menu/Product List
Obviously, you need to provide a detailed list of the products you plan to offer, including cakes, cupcakes, cookies, pastries, tarts, and any other baked goods. You should include descriptions of each product and flavor variations, including ingredients, portion sizes, weight, and pricing.
Packaging
Describe the packaging you will use for your baked goods. It includes any branding or labeling. You should also include information about the materials you will use, such as paper or plastic, along with any environmental considerations.
Special Orders 
Describe any special order services you will offer, such as occasion-related customized cakes, cookies, or catering. Make sure to include details about the ordering process, pricing, delivery, and lead times. 
Other Services
This section is dedicated to additional things you plan to offer. It may include baking workshops, cooking classes, recipe books, delivery services, etc. Include all relevant details: scheduling, pricing, and any special equipment or supplies required.
When describing your products and services, it's important to be as specific as possible so customers will rarely have additional questions. Use descriptive language to help the reader imagine the taste, texture, and appearance of your baked goods. You should also consider the preferences of your target market and ensure that your products and services meet their needs and expectations. 
Market Analysis
Each home based bakery business plan template has to include a space for market analysis. Conducting a deep market analysis can help you solve many upcoming issues in the future. Here is what a good analysis includes.
Aspect
Description
Target market
Includes demographic information about gender, age, approximate income, and location of your customers. Researches user buying habits and preferences.
Market size and share
Involves analyzing data from government sources, industry associations, or market research firms. The ABS has great population and demographics data available for free on their site.
Industry overview
Provides trends overview and forecasts for growth. Includes information about consumer demand, pricing, and most popular distribution channels.
Competitor analysis
Identifies major competitors and analyses their strengths and weaknesses. Includes factors such as location, pricing, product offerings, and marketing strategies your rivals have.
Entry barriers
Includes deep research on any barriers to entry in the bakery industry, such as regulations, licensing requirements, or access to capital.

SWOT analysis

(Strengths, Weaknesses, Opportunities, and Threats)

Conduct a SWOT analysis to assess your bakery's internal strengths and weaknesses, as well as external opportunities and threats.
Customer Analysis
Despite being mentioned in previous steps, customer analysis deserves a separate paragraph as it's an important aspect of the plan. While analysing your potential clients, pay attention to the following details:
Demographics. To understand users' needs, you need to turn to their demographics: average income, age, location, etc. This information will help you tailor your products, services, and marketing strategies to their specific needs and preferences.
Preferences and needs. After analyzing the market, you may start seeing patterns. For instance, some goods are trending upward while some aren't popular at all. You can highlight the most popular tastes and textures and correlate them to the price. 
Customer Behavior. Studying their buying behavior can reveal lots of useful things. For example, when are peak hours, how often they purchase baked goods, how much they approximately spend, etc.
Customer Loyalty. Offering exceptional customer service and even promotions around special events can help you build a solid customer base.
Competitors Analysis
Having a clear understanding of your rivals and their position in the market is crucial to driving your own business to success. In this matter, CakerHQ allows you to monitor competitors at a glance. Apart from your listing, there are dozens of others. Hence, you can easily compare your offerings with theirs and outline your advantages and disadvantages for further optimisation.  
If you wonder where to start your competitor's analysis, there are several checkpoints. First off, in a sample of a home baking business plan, you should draw a line between direct and indirect competitors. 
Direct competitors 
This category represents baking businesses that are located in the same area as you. They offer similar products, services, and goods. They could be other small baking businesses, bakeries, and cafes. They must be your primary focus, as they're likely to convert your customers. 
Indirect competitors 
This category is called indirect for a reason. It consists of businesses that are slightly different from yours. They may offer different products or target other niches. However, if you find out that your target audience is interested in their offering, you must consider them. Examples of these are supermarkets and bakeries.
After analysing who they are, you will need to shift focus to how they work. You can start by analyzing their strengths and weaknesses and the ways your business is different from theirs.
Realizing competitors' positives and negatives and differences to your own business and offerings, you can start to build your competitive advantage. In other words, it's what sets your bakery apart from your competitors. This may include factors such as unique products, high-quality ingredients, or personalized customer service.
Management Plan
The management plan's mission is to outline all possible processes your business operations consist of. Essentially, it should include: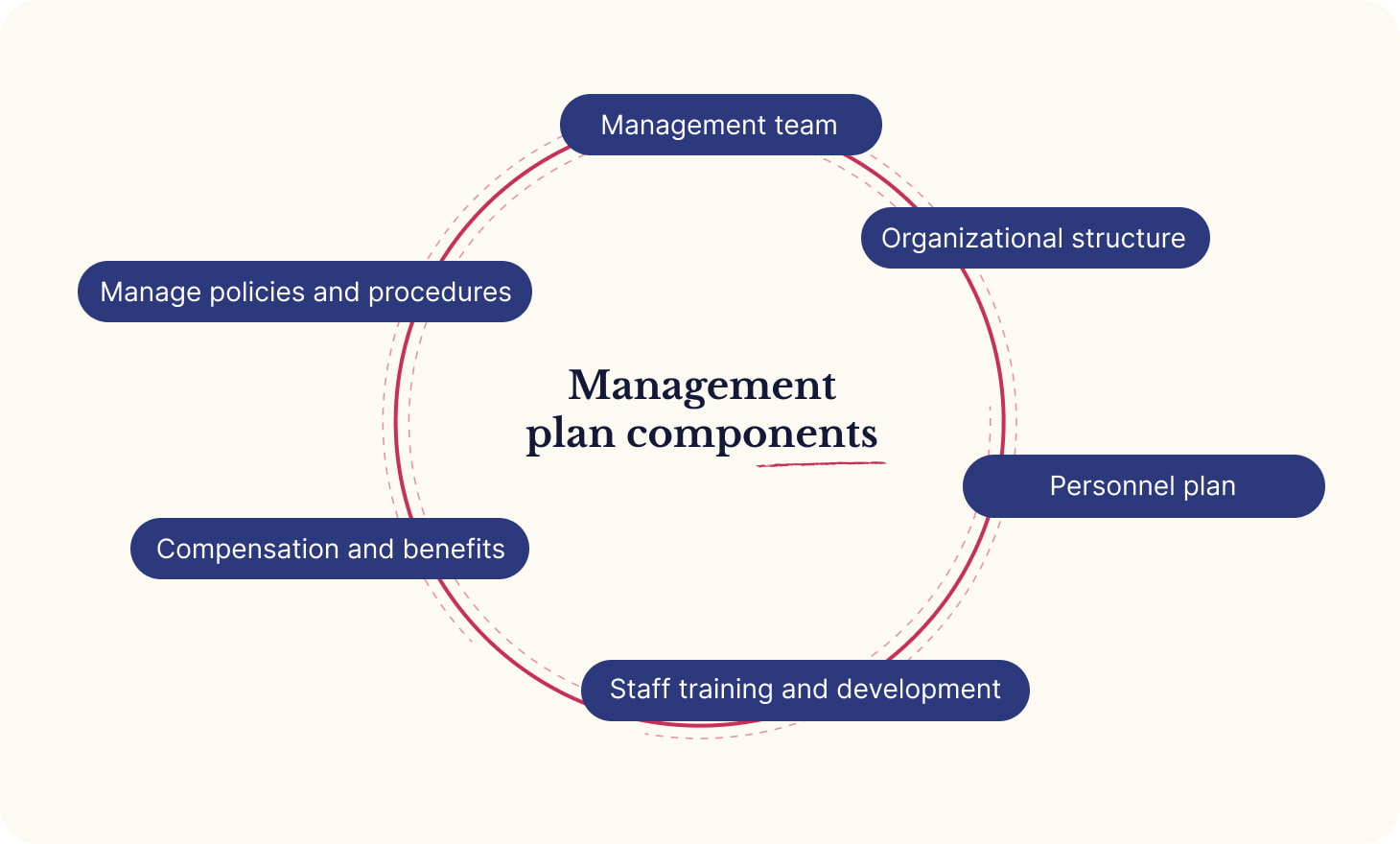 A management team
Make sure you identify key personnel's goals and responsibilities in managing your business. This includes their qualifications, salary, experience, etc. If you run your own business, describe your own responsibilities and activities that you delegate or plan to outsource.
Organisational structure
Outline your business structurally, including the roles and responsibilities of each member of the management team. This will help ensure that everyone understands their position and responsibilities within the company.
Personnel plan 
Identify the number of employees you plan to hire and their roles and responsibilities. This should include both full-time and part-time employees.
Staff training and development
Outline your plans for staff training to ensure that all employees are adequately trained and equipped to provide high-quality products and services.
Compensation and benefits 
Define your compensation and benefits package for your employees. This should include salaries, bonuses, health insurance, retirement plans, and other benefits.
Management policies and procedures 
Define your management policies and procedures, including your code of conduct, employment policies, safety policies, and other relevant documentation.
Operation plan
This plan is intended to outline the day-to-day operations baking venture. It typically consists of several aspects. 
Production process. Describes your production processes, including the steps involved in baking, packaging, and storing your products. 
Inventory management. Outlines how you will manage your inventory, including how you will track ingredients, supplies, and finished products. This should also include information about how you will manage waste and spoilage to minimize costs and maximize profitability.
Quality control. Defines your quality control processes to ensure that your products consistently meet high standards. This may include regular testing, inspections, and employee training.
Operating procedures. Outlines your hours of operation, staffing requirements, and customer service policies. 
Suppliers and vendors. Contains a detailed description of those who supply ingredients, packaging materials, and other supplies needed to run your business. 
Logistics plan
In the business plan for bakery, this section contains details about everything related to the distribution of your products. Traditionally, here are the four most important logistical aspects you should consider. 
Transportation
This section outlines how you will transport your products to customers. This may include in-house selling, takeaway or customer collection, or shipping by courier services.
Packaging 
Explain how you will package your products, including the materials used and the design. Your packaging should protect your products and be visually appealing to your customers.
Distribution channels
Define how you will sell your products to customers. This may include selling directly to consumers at your business premises, through online ordering, or through third-party retailers. 
Order fulfillment 
Outline your order fulfillment process, including how customers will place orders, how you will process and fill those orders, and how you will handle returns or customer complaints.
Marketing plan
To build a thriving business, you need to advertise it regularly and invest in marketing. Accordingly, the marketing plan has a significant place in your cake making business plan. Here's what it usually consists of.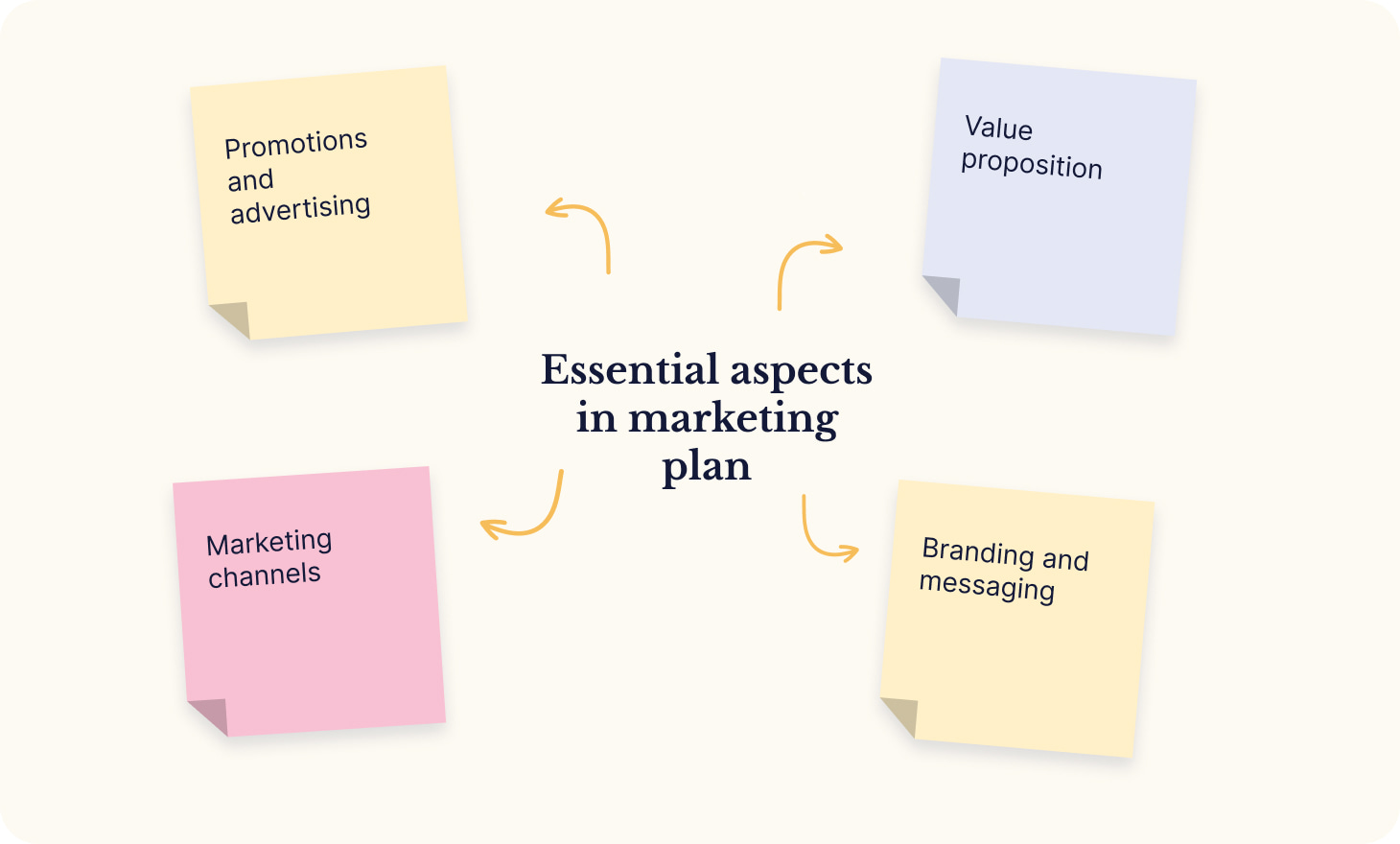 Value proposition 
Your baking business' value proposition is all about making it unique compared to your competitors. By crafting a strong value proposition and using effective marketing strategies, you can easily communicate your unique qualities right to your target audience. 
Branding and messaging
Putting effort into your business' name, tagline, logo, and key messages can make a gigantic impact on attracting customers both online and in person. It helps you to build a recognizable brand and ensures consistent communication across all your marketing platforms.
Marketing channels
You can think of setting up social media accounts on the most popular platforms like Instagram or Facebook to showcase your delicious treats. Sending out weekly newsletters through email marketing is another great way to reach your customers. By the way, hundreds of customers are searching for you on CakerHQ!
Promotions and advertising
Make sure you think about the exciting promotions and advertising tactics you'll use to boost your sales. You can try offering discounts, coupons, and loyalty programs to entice your customers. It's also important to include how you'll measure the success of your marketing efforts. You must create a clear understanding of what works best for your business and what needs improvements.
Looking for a reliable platform to boost your baking business profile? You've come to the right place. Sign up for the CakerHQ
Financial plan
Lastly, the finishing part of your plan is financial management. It may look quite overwhelming, but we will break it down into several manageable steps. 
Revenue projections 
Estimate your revenue for the first year. Break it down by product or service, and be sure to base your projections on realistic assumptions. Consider factors like seasonality, overall competition, and market trends to get a clear picture.
The cost of goods sold 
The COGS metric is commonly used in business finance. It includes the initial inventory and purchases during a specific period minus the amount at the end of that period. You'll also consider the costs of ingredients, labor, packaging, and other production-related expenses.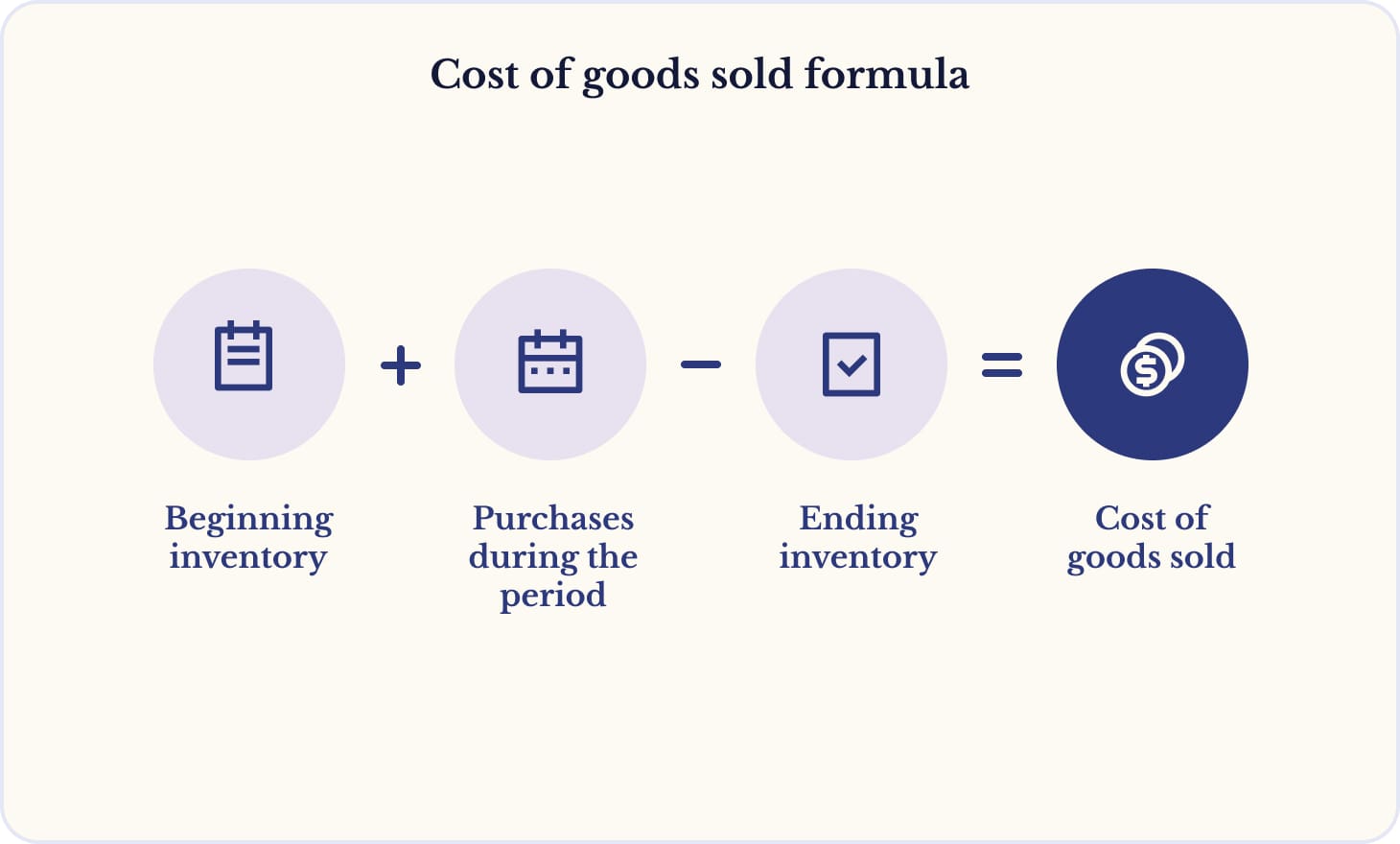 Operating expenses
Having a clear vision of your operating expenses is essential. These include things like rent, utilities, marketing, insurance, and other overhead costs. Estimate these expenses for the first year and break them down on a monthly or quarterly basis. 
Pricing
It's important to set your prices to reflect your hard work, experience, and costs associated with your delicious bakes.
Profit and loss statement
The profit/loss statement is a valuable metric that displays your revenue, COGS, and operating expenses. It helps you calculate your net profit or loss for each month or quarter. This statement will be quite handy in predicting your business growth in the long run.
Break-even analysis 
This analysis is crucial to ensure you stay afloat in the market. It helps you determine the minimum amount of revenue you need to generate in order to cover your costs, break even, and start earning profits. It's a vital analysis to keep your business afloat.
Conclusion
In conclusion, we hope we have provided detailed insight into the bakery business plan composition. It is an essential step in starting and growing a successful venture, no matter how big or small you start out, and it can be helpful in numerous ways. 
It provides a roadmap for your business's future and helps you make informed decisions about marketing, operations, and investment. 
By following the steps outlined in this article, you can create a comprehensive home baking business plan that sets you up for success in the competitive yet highly rewarding baking industry. Remember to regularly review and update your plan as your business evolves to ensure that you stay on track and achieve your goals. 
Lastly, feel free to join our thriving community of baking business owners. Not only do we provide a reliable platform for your growth, but also simplify all the administration processes, including bookings, order placing, payments, communication with clients, marketing, and more. 
 
Looking for your perfect cake?
Our bakers are ready to make you your special cake, just the way you want it!
Frequently Asked
Questions
Frequently Asked Questions
We are here to help you with most frequently questions.
How much time does starting a bakery business plan take?
Writing a comprehensive plan for a baking business can take anywhere from several hours to a few weeks. The time frame depends on factors such as business size, level of detail, and market research. It may be time-consuming, but a thorough plan is crucial for setting up a successful business.
How to make a business plan for a home based baking business?
To create a home based baking business plan, consider local laws and regulations, develop a marketing strategy, and create a financial strategy with revenue projections. Don't forget to include information about your products and target customers, as well as the equipment and staffing needed for operations and financial plan
What should be included in the home cake baking services business plan?
A bakery business plan should include an executive summary, business description, market, customer, and competitor analyses, management, operation, logistics, marketing, and financial plans. The level of detail and length can vary based on the bakery's size and goals.
Rate this article!
(5 ratings, average: 5 out of 5)