An Ultimate Guide to Marketing Strategy for Cake Business
For Cakers
As the cake industry experiences a boom, the demand for delectable and aesthetically pleasing creations continues to rise. In this increasingly competitive market, it is imperative for cake businesses to establish a clear marketing strategy. 
A well-crafted cake-making business plan will enable you to distinguish yourself from competitors and entice customers to choose your offerings.
This comprehensive guide delves into the fundamental components of a successful marketing strategy for cake business. Following the steps in this guide, you can enhance your brand presence and effectively connect with your desired customer base. Also, with the right marketing strategy of bakery business, you will ultimately grow and expand your venture. 
This strategy involves identifying the target audience, developing a unique selling proposition (USP), and leveraging an online presence. Also, the marketing plan covers creating visually appealing content, participating in local events, offering promotions and loyalty programs, and adapting strategies to drive sales. 
To create a profitable cake-making business, you need to consider all these points, if possible. We'll talk about all of them in great detail below. So, get ready to sweeten your marketing efforts and take your cake business to a higher level!
Marketing strategy for bakery business: definition
You might have crafted the most exquisite and delectable cake imaginable, but its success hinges upon effectively spreading the word about it. So, monetise your creativity by sharing information about it effectively. And it's about marketing as it plays an indispensable role in capturing attention and generating sales. 
A marketing strategy for bakery business refers to a comprehensive plan designed to promote and grow your cake venture. It includes a diverse array of strategies and methods. Using them, you can allure new audiences, maintain the loyalty of existing customers, enhance brand visibility, and ultimately propel revenue growth. 
This plan for the bakery organisation involves identifying the target group, creating a unique value proposition, and making a strategic plan to effectively reach and engage customers. 
The strategy for promoting the cake-making venture encompasses various elements, including branding, online presence, customer acquisition and retention, promotional activities, partnerships, and continuous analysis and optimisation.
Below we will consider the primary steps for implementing a successful marketing strategy for cake business. Let's begin!
7 main marketing steps to increase revenue
When developing a promotion plan for a bakery venture, it is crucial to maintain flexibility and embrace innovative ideas. By leveraging creativity, conducting thorough research, and actively seeking customer feedback, you can design customised strategies that effectively promote your bakery and generate awareness.
To effectively grow your venture, consider the following tips:
1. Define your target audience
Understanding your target audience helps you tailor your marketing strategy of bakery business to attain the right customers and communicate effectively with them. 
Here are the key steps to define your target audience: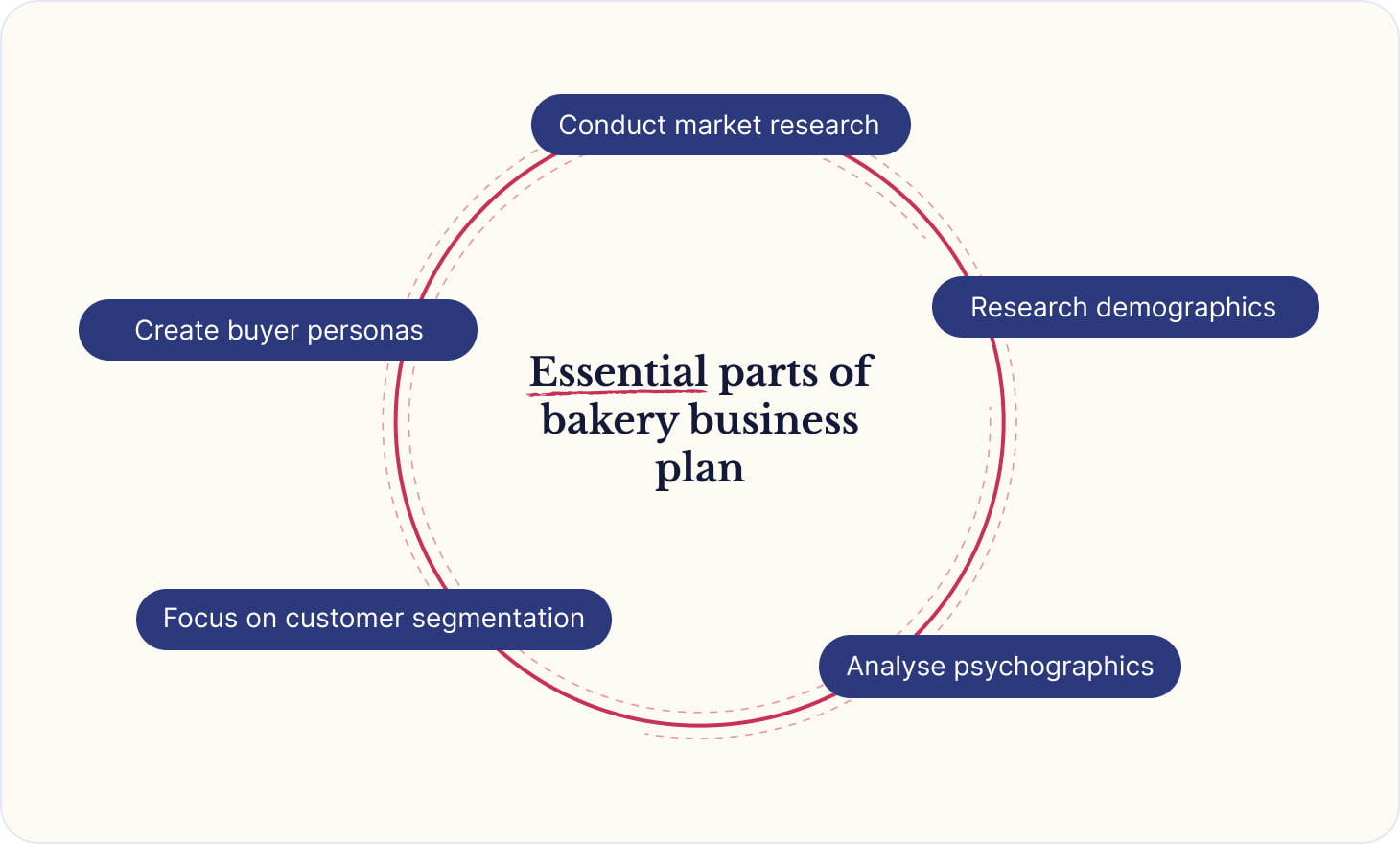 Conduct market research. Quality research is the foremost aspect of implementing a successful promotion plan. You should gather information about the cake industry, customer preferences, and tendencies. Identify the potential customer segments and assess their needs and desires.
Research demographics. It is vital to analyse the information of your target audience, such as location, gender, age, income level, and occupation. This data will assist you in understanding who your potential users are and how to engage them. Thus, you could create a working promotion strategy for the bakery venture. 
Analyse psychographics. After demographic research, dive deeper into the psychographic characteristics of your customers to create a working marketing strategy for bakery business. These aspects include their values, interests, lifestyles, attitudes, and behaviors. With this information, you can align your marketing messages and offerings with users' preferences.
Focus on customer segmentation. Segment your target audience based on common characteristics or needs. This segmentation enables you to make tailored marketing campaigns for each segment, solving their specific issues and desires.
Create buyer personas. A buyer persona represents your ideal client. Develop detailed buyer personas that reflect your ideal shoppers. These personas serve as fictional images of your target customers, encompassing their demographic and psychographic information.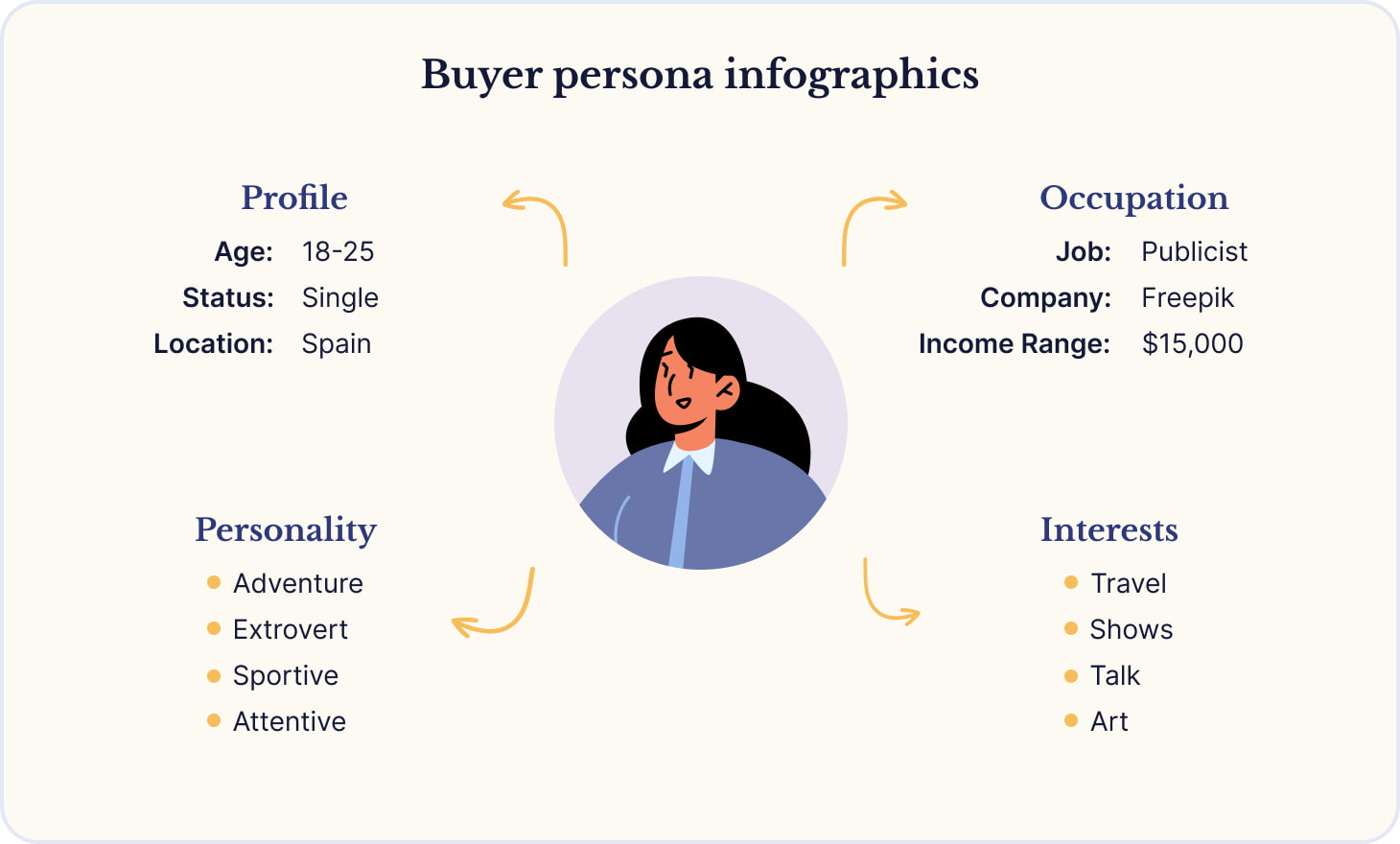 Get customer feedback. Collecting feedback is another critical aspect of a successful business's promotion. Conduct surveys, interviews, or online reviews to understand their preferences, experiences, and suggestions. This feedback can help refine your target audience definition and shape your marketing strategy for cake business accordingly.
2. Develop your unique selling proposition (USP)
When crafting a marketing strategy for bakery business, establish a unique selling proposition (USP). It will distinguish your venture from competitors and resonate with your target audience.
Let's consider the key steps to develop your USP for a successful marketing strategy for bakery business:
Identify your competitive advantage. Assess your venture and identify what sets it apart from other cake makers. Thus, you will find what to improve in your marketing plan for cake business. Unleash your expertise in a particular cake style, and leverage the utilisation of premium-quality ingredients. Also, showcase distinctive flavor combinations or offer unparalleled customer service. 
Understand customer needs. Embrace a profound comprehension of your target audience's desires, preferences, and challenges concerning cakes. This comprehensive understanding will empower you to align your USP with the factors that truly matter to your valued customers. This could be your expertise in a specific cake style, the use of high-quality ingredients, unique flavor combinations, or exceptional customer service.
Highlight your unique features. Determine the unique features or qualities of your cakes that make them stand out. It could be innovative designs, artistic decorations, customised options, or special dietary considerations (e.g., gluten-free, vegan). These unique characteristics will complement your promotion plan for the cake venture.
Emphasise quality and craftsmanship. It is essential to showcase your commitment to quality and craftsmanship. Highlight the attention to detail, the use of fresh and premium ingredients, and the expertise that goes into every cake you create.
Communicate the benefits. You should communicate the benefits that customers will experience by choosing your cakes. Whether it's the marketing strategy for wedding cake or cake for child events, make sure customers understand the value they will receive. These can be appealing designs, unusual tastes, or other. 
Care about consistency and reliability. Establish a reputation for reliability in delivering high-quality cakes. It is important to build trust with your users by meeting or even exceeding their expectations.
Add testimonials and reviews. Gather testimonials and positive reviews from happy customers. Display them on your website and social media channels. Thus, you will reinforce your USP and build trust with potential customers.
Differentiate your marketing messages. Incorporate USP into your marketing strategy bakery business messages across diverse channels. Highlight it in your site content, social media posts, ad campaigns, and user interactions.
Want to increase your sales? CakerHQ is for you! Sign up
3. Build a strong brand identity
This is another step in building the marketing strategy bakery business plan. If you want to differentiate your venture, create a positive impression, and foster customer loyalty, you should establish a strong brand identity. The essence of your venture is encapsulated within your brand identity. Encompass the visual elements, messaging, and overall personality that resonate with customers and create lasting impressions. 
Below you can see key steps that can help build a strong brand identity for your thriving bakery venture:
Determine your brand values. Identify the core values that represent your cake venture. Consider factors such as quality, creativity, authenticity, sustainability, or exceptional customer service. These values will guide your brand identity and resonate with your target group.
Develop a compelling brand story. This is a strategy to add to your prosperous marketing plan for cake business. Make a compelling narrative that tells the story behind your cake venture. You can share the inspiration, passion, or unique journey that led you to create your cakes. Bear in mins, that a thoughtfully crafted brand story serves as the catalyst for customers to form an emotional bond with your business. 
Craft a captivating logo design. It is advisable to create a visually enticing and unforgettable logo that embodies the unique character of your brand and deeply resonates with your intended audience. Take into consideration the colors, typography, and graphic elements that align with your brand values and attract your customers. 
Care about visual branding. Extend your brand identity into all visual elements of your venture. These components include packaging, website design, social media graphics, and marketing materials. You should maintain consistency in colors, fonts, imagery, and overall aesthetics to build a cohesive and remarkable brand presence. 
Develop brand guidelines. Make comprehensive brand guidelines that define the visual and verbal components of your brand identity. These guidelines should offer precise instructions on logo implementation, color selection, typography choices, tone of communication, and any distinctive design elements exclusive to your brand. By consistently adhering to these guidelines, you can maintain a cohesive brand image across all interactions and platforms. 
Deliver brand messaging. Cultivate a distinctive tone of voice and messaging style that authentically embodies your brand identity. Infuse this voice consistently across your website, social media bakery advertising endeavors, and customer interactions. Try to craft messages that stir emotions, highlight your expertise and effectively convey the unparalleled value your cakes deliver.
Forge lasting connections. This strategy is also helpful for your winning marketing plan for cake business. You can engage with your audience on social media platforms, proactively address customer inquiries in a timely manner, and foster a genuine sense of community. By nurturing meaningful interactions, you can cultivate lasting connections that go beyond transactional exchanges.
4. Establish an online presence
This is another key step in implementing a successful promotion strategy for the bakery venture. Establishing a strong online presence is crucial to reach a wider audience, showcase your offerings, and attract potential users. Online platforms provide opportunities to create brand awareness, drive website traffic, and generate online orders. 
Here are the key steps to establish an online presence for your brand:
Develop a quality site. Your platform should be modern and user-friendly and showcase your products, services, and contact information. This is essential for the successful marketing strategy of bakery business. Build your site mobile-responsive, as many customers browse on their smartphones. Include enticing visuals, detailed descriptions, and an easy-to-use ordering system if applicable.
Optimise for search engines. It is an obligatory point for your venture's growth. Implement SEO (search engine optimisation) techniques to enhance your site's appearance in search engine results. Optimise your website's content in terms of your strategy. This means optimising headings, meta tags, and URLs with these keywords to take higher positions in search results.
Leverage social media. This step will also help you create a working marketing strategy for bakery business. Based on research conducted at Cornell University, it was discovered that a majority of chain restaurants, approximately 59 percent, as well as a significant number of independent restaurants, approximately 79 percent, actively engage in the use of social media platforms. 
Furthermore, a considerable 61 percent of individuals rely on social media as their primary source of information when seeking out restaurants, bakeries, and other food establishments. So, social media is a working way to acquire customers. 
We recommend you make profiles on popular social media platforms like Facebook and Instagram. Share appealing visuals of your cakes, behind-the-scenes content, special promotions, and updates about new products or events. 
Use online advertising. Apply social media advertising and use online advertising platforms like Google Ads in your marketing strategy of bakery business. Thus, you could attain more people. Target specific demographics, interests, and geographical locations to maximise the effectiveness of your ads. You cam experiment with different ad formats, such as display ads, search ads, or sponsored posts. Thus, you can increase visibility and drive traffic to your website. 
Care about reputation management. Motivate delighted customers to share their positive experiences by leaving reviews on popular platforms (Google My Business, Yelp, Facebook). Keep a vigilant eye on online reviews and promptly engage with customer feedback. You should embrace both the positive and negative. This shows your commitment to customer satisfaction. 
Provide online ordering and delivery. If applicable to your marketing strategy for bakery business, offer online ordering and delivery services. Implement a seamless and user-friendly online ordering system on your site. You can partner with local delivery services or establish your own delivery infrastructure to cater to customers who prefer the convenience of doorstep delivery.
Want to sell or order a cake? It's never been easier, as with CakerHQ. Try right now. 
Use the power of email marketing. Create a database of interested customers and send emails to maintain consistent communication with your audience. Don't forget to regularly send out newsletters featuring the latest updates on new products, promotions, and seasonal offers, ensuring your subscribers stay informed and engaged. 
When crafting a newsletter, you should be creative. For example, the Chick-fil-A American food chain transformed its newsletter into an interactive game. They invited individuals to embark on a word hunt to uncover hints about their latest addition to the menu.
5. Use the power of content marketing
Developing content marketing is an effective way to engage with customers and establish expertise in the industry. By making and sharing relevant, informative, and entertaining content, you can create a loyal following and drive customer engagement. 
These are essential steps to implement a content marketing strategy for bakery business:
Define your content objectives. Your endeavors in implementing the digital promotion plan for the cake venture can encompass various goals. For example, these are boosting brand recognition, directing traffic to your website, unveiling new product offerings, or demonstrating your expertise. 
Forge a content plan. Devise a comprehensive cake business marketing plan that describes the specific types of content you will create and the platforms you will utilise to disseminate it. This can encompass an array of formats, including engaging blog posts, captivating videos, delectable recipes, instructive tutorials, insightful infographics, and impactful social media posts. Define the aims you want to achieve through the content plan. This could include driving website traffic, promoting new products, or showcasing expertise.
Illuminate your baking prowess. This tip is advisable to consider when building the marketing strategy bakery business. Share your vast knowledge and expertise through informative and educational content. For example, create blog posts or videos that offer tips, techniques, or insights related to baking, cake decorating, or ingredient selection. 
Consider visual appeal. Regarding the marketing strategy of bakery venture, visuals play a crucial role. Use videos or images to showcase your delectable cakes, pastries, and other baked goods. Invest in high-quality food photography to make your content visually enticing and appealing to your audience.
Promote your content. Effective cake business promotion on diverse platforms is a crucial aspect of a marketing strategy for bakery business. Post your content across various platforms, comprising your site, blog, email newsletters, social media channels, and online communities. Leverage social media advertising or influencer collaborations to extend your reach and attract new audiences.
Measure and analyse results. Track the performance of your content. You can use analytics tools to measure engagement metrics, site traffic, and conversion rates. Also, dive into the data to gain insights into which content resonates with your audience. 
Stay knowledgeable. This is vital to stay informed about the most recent trends in your industry, emerging baking methodologies, and sought-after flavors. By staying up to speed with these advancements, you can guarantee that your content remains pertinent and strikes a chord with the present interests and preferences of your specific audience. This point is essential for a successful marketing plan for cake business.
6. Do effective local marketing
This type of promotion can be a gold mine if you use it correctly. By targeting and engaging with people in your local area, you can create a strong presence. 
The CakerHQ is just such a kind of site that caters to a local audience from Australia. Here customers can find many local cake makers and choose the best option for themselves. In general, it is a great place to sell cakes and grow your business.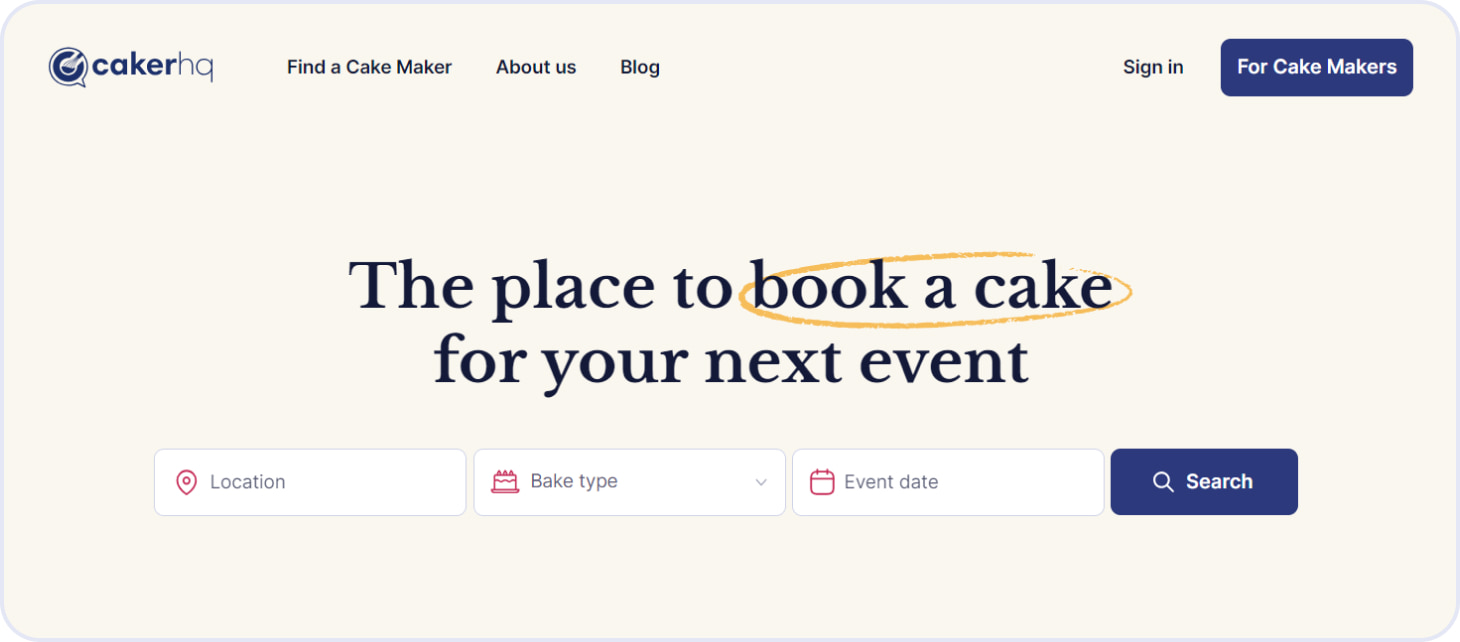 Let's discover the core steps to realise a local promotion strategy for the cake business, such as Caker HQ has implemented:
Identify your target local market. Understand the demographics, preferences, and needs of your local market. You should consider aspects such as income levels, age groups, lifestyles, and cultural preferences. Use this knowledge to inform your effective marketing strategies for cake businesses and customise your messages. So you could deeply connect with your local audience. 
Consider local partnerships and collaborations. Form partnerships with other local organisations that complement your offerings. For example, collaborate with nearby coffee shops, event venues, or wedding planners. Cross-promote each other's ventures to expand your reach and drive new customers. 
Participate in local events. It is advisable for a successful marketing strategy for bakery business to attend local events, festivals, fairs, or community gatherings. Set up a booth or sponsor a bake-off competition to showcase your products. Offer samples, engage with attendees, and distribute promotional materials to raise awareness and attract interest in your brand.
Use direct mail marketing. If you want to achieve success with your campaign marketing for custom bakery, develop targeted direct mail campaigns to reach local residents. Send out postcards, flyers, or coupons to households. You need to highlight your unique offerings, promotions, or special events to allure potential buyers to go to your website.
Register in online local directories. For a successful marketing strategy for bakery business, ensure your website is listed in relevant online local directories. Optimise your listings with accurate and actual information. This means adding your current phone number, address, business hours, and site. Try to encourage people to leave reviews and ratings to strengthen your bakery's online reputation.
Utilise local sponsorships. Sponsor local sports teams, charity events, or school programs. Display your brand's logo or name on jerseys, banners, or event materials. This not only supports the community but enhances brand visibility and fosters a positive reputation for your business. 
Receive local media coverage. Reach out to local newspapers, magazines, or TV channels to pitch stories or press releases about your brand. An instance of a bakery that has successfully utilised the influence of reality TV and celebrity endorsement is Carlo's Bakery. Thanks to the popular television show "Cake Boss," the bakery was able to capitalise on the immense exposure and generate significant interest from a broad audience.
So, highlight your unique products, community involvement, or any newsworthy events. Local media coverage can significantly increase your site's visibility and attract local customers. 
Join the local community on socials. Harness the power of social media channels for a bakery business to actively connect with your local community. Share compelling content centered around local events, news, and initiatives. Responsively address comments, messages, and reviews to cultivate a positive online reputation. Foster user-generated content by showcasing customers' photos and testimonials, encouraging a sense of community and loyalty.
Offer personalised customer service. Provide exceptional customer service with a personal touch. For this, get to know your regular customers by name, remember their favorite orders, and go the extra mile to ensure their satisfaction. Building strong relationships with your local customers will foster loyalty and positive word-of-mouth. So, feel free to include this tactic in your marketing strategy bakery business. 
7. Offer customer loyalty and referral programs
Implementing customer loyalty and referral programs is an effective marketing strategy for bakery business. Thus, you will cultivate customer loyalty and drive new users through word-of-mouth. These programs incentivise customers to apply to your cake venture and encourage them to refer others to your platform. 
These are some working steps to develop customer loyalty and referral programs:
Define program objectives. Determine the goals to achieve with your loyalty and referral programs of the marketing strategy for cake business. This could comprise enhancing customer retention, boosting average order value, driving new customer acquisition, or improving overall customer satisfaction.
Use a loyalty program. It is another approach that leads you to the winning promotion plan of the bakery venture. Develop a well-structured loyalty program that acknowledges and rewards customers for their continued patronage. Offer incentives, such as discounts, exclusive promotions, or loyalty points that can be redeemed for future purchases. 
Offer referral program. It is advisible to establish a robust referral program. This program will motivate existing customers to spread the word about your venture to their friends, family, or colleagues. Provide enticing options for both the referrer and the new customer, such as attractive discounts, delightful freebies, or exclusive special offers. Streamline the referral process by offering various channels for customers to effortlessly refer others, including email, social media platforms, or personalised referral codes.
Add personalised communication. Communicate with your loyal customers to keep them involved and informed about program benefits and exclusive offers. Send personalised emails, SMS messages, or newsletters to provide updates, birthday rewards, or anniversary offers. Tailor your communication based on each customer's preferences and purchase history. This approach works well for your marketing strategy of bakery business.
Get customer feedback. Actively seek feedback from your dedicated customer base. Thus, you will gain a deeper understanding of their preferences, needs, and valuable suggestions for enhancement. Employ surveys, online reviews, or face-to-face conversations to collect invaluable insights, demonstrating your genuine regard for their opinions and fostering a customer-centric approach. It is a beneficial approach for your marketing strategy bakery business. 
Go beyond limits. It would be great if you add to your promotion plan delivering unparalleled customer service and surpassing the expectations of your customers. Provide tailored suggestions, delightful surprises, or unique additions to create unforgettable experiences. By consistently delivering exceptional service, you can forge powerful emotional bonds with your clientele. 
Monitor and evaluate outcomes. Keep a close eye on the progress of your loyalty and referral marketing strategy of bakery business. You should monitor vital metrics like customer retention rates, program engagement, referral conversions, and customer lifetime value. Scrutinise the data to uncover patterns, evaluate the effectiveness of your programs, and make well-informed modifications as necessary.
Want to sell your cakes fast? Try CakerHQ! Register now
The cost of the cake business marketing strategy 
When it comes to implementing the marketing strategy for bakery business, cake makers don't always require a large budget. This doesn't mean that the promotion plan is any less important. It simply means that by implementing the right strategies, you can take advantage of numerous free resources to advance your venture.
Determining your marketing budget depends on several factors:
Target market: Consider how you plan to reach your target market and tailor your budget for developing the promotion strategy accordingly.
Available resources: Take into account your available resources, including staff, capital, and time, to allocate toward marketing efforts.
Offerings: Assess what you're offering to potential customers and develop your strategy in accordance.  
Other costs: Consider the additional costs associated with opening a bakery venture and factor them into your budget.
When creating your budget for marketing strategy for the cake venture, it's essential to consider your unique business model. This will assist you in defining your top marketing priorities.
For instance, if online ordering is a significant aspect of your business, it would be wise to invest in a skilled web designer to create an eye-catching and user-friendly website. Alternatively, if social media plays a crucial role in your marketing strategy for bakery business to reach your target audience, consider budgeting for professional photoshoots. Thus, you can enhance the visual appeal of your social media posts.
Below you can see the rough estimate of the different components of the marketing strategy.
| | |
| --- | --- |
| Marketing component     | Estimated Cost Range |
| Market research | $0 - $1,500 |
| Branding | $0 - $5,000 |
| Social media marketing | $0 - $2,000/month |
| Advertising | $0 - $5,000/month |
| Content creation | $0 - $500/piece |
| Influence marketing | $0 - $500 |
| Marketing campaigns | $0 - $2,000/campaign |
| Email marketing | $0 - $200/month |
| Total price | $0-$16,700 |
The approximate budget you need for your marketing strategy can vary between $0-$16,700. However, bear in mind that the estimated cost is approximate and subject to variation based on the business's intricacy, geographical location, and the particular service providers or vendors you engage with. Also, it is possible to spend no budget on marketing and still have a good marketing plan with organic content.
We advice you to test each marketing channel gradually and define what works better for your venture.  
Summary: right marketing strategy bakery business needs
Selling cakes online is a challenging endeavor that requires not only expertise in baking but also business acumen. And moreover, do you have to plan a marketing strategy of bakery business? Sure. 
Irrespective of the immense profitability of a bakery enterprise, failing to adapt to the ever-changing landscape will lead to missed prospects. Embrace the unknown and venture into uncharted territories, for only by doing so can you uncover the untapped potential that may revolutionise your business. Thus, formulating a comprehensive promotion plan for the bakery venture takes precedence. It holds the key to accelerating your sales growth as quickly as possible.
By implementing effective marketing tips for custom cake bakeries mentioned in the article, cake ventures can attract and retain customers, increase brand awareness, and drive sales.
Looking for your perfect cake?
Our bakers are ready to make you your special cake, just the way you want it!
Frequently Asked
Questions
Frequently Asked Questions
We are here to help you with most frequently questions.
What is the marketing strategy of bakery business?
The marketing strategy is a comprehensive action plan designed to reach specific marketing goals. It aims to communicate the brand's benefits to the target audience effectively, generate customer interest and loyalty, and drive sales.
How do I advertise my cake business on social media?
Select the right platforms for your target audience. Share high-quality visual content. Engage with your audience by responding to comments. Collaborate with influencers and run promotions. Use targeted marketing for cake business growth. And don't forget to post consistently.
How do bakery companies attract customers?
By harnessing the power of social media platforms in terms of your marketing strategy of bakery business, offering loyalty and referral programs, cultivating positive customer reviews, and ensuring a delectable menu, cake-making businesses can entice customers.
Rate this article!
(0 ratings, average: out of 5)