Spooktacular Sweets: 25 Adorable Halloween Cupcakes Creations
Tutorials
The eve of All Saints' Day is a good reason to bake beautiful mini-cakes and decorate them with a spooky design at home. So, on Halloween, we can let our creativity run wild and welcome the spookiness in every aspect of life, including our culinary adventures.
In fact, Halloween cupcakes are delightful, bite-sized creations that allow us to infuse a dash of eerie charm and a pinch of wicked whimsy into our festivities. 
We will show you the best ideas and options for incredible cupcakes for Halloween. These Halloween cupcakes decorations will fascinate your taste buds and create the basis for a truly unforgettable Halloween party.
Halloween cupcakes: why it's popular
Basically, a cupcake is a mini-cake decorated with cream, fruit, chocolate, various sprinkles, figurines, and other decorations. Why have cupcakes become so popular? First, they're beautiful. Secondly, they're exceptionally delicious. Finally, cupcakes have so many different decoration variations that they can be prepared for any holiday, including Halloween.
Mini Halloween cupcakes are decorated with white and black chocolate, figures made of mastic, meringue, gingerbread, and other thematic "goodies." We will show you Halloween cupcakes decorating ideas in the images below.
Bright, funny, beautiful, gloomy, glamorous, and terrible - these cupcakes are a favourite for Halloween. This dessert is served individually, so cupcakes are often used at parties and festive events. Moreover, spiders, ghosts, pumpkins, skeletons, and bats on cupcakes will decorate your table and delight your guests at the Halloween party.
So, let's dive into some scary Halloween cupcakes ideas.
Pumpkin cupcakes
A pumpkin is an integral symbol of the Halloween holiday. For example, Jack's lamps are cut  out of a pumpkin. The image of a pumpkin is also used as a Halloween cupcake decoration.
These Halloween cupcakes look like real little pumpkins. With fluffy orange cream and caramel stems, they make a great addition to your Halloween table.
As an option, add pumpkin puree and traditional spices like cinnamon and nutmeg to the dough. Next, decorate with cream like a pumpkin part and stem.
Trick-or-treat cupcake parfaits
You can create an authentic twist on this Halloween theme by making a Trick-or-treat parfait of different flavours of cupcakes and candy. Such sweets will definitely bring joy to all guests.
Use these cute Halloween cupcakes with different flavours and crush them, alternating layers with whipped cream and candies.
Skull candy cupcakes
Creepy white chocolate cupcakes decorated with skulls and bloody spilled candy. Prepare your friends for a sweet scare!
These Halloween cupcakes can be plain vanilla or chocolate, but the main thing is to decorate them with buttercream and marshmallows in the form of skulls.
Creepy eyeball cupcakes
These Halloween mini cupcakes have charming jelly eyes that stare at you from the plate. Eyeball cupcakes will create an atmosphere of horror on your table.
Take marshmallows, add chocolate drops as pupils, and place these "eyes" on cupcakes with red or black cream. The effect will be creepy!
Zombie brain cupcakes
Let your creativity run wild by creating marshmallow Halloween mini cupcakes painted to look like actual zombie brains.
For example, you can paint the berry chick as a zombie's brain with red blood syrup. And enjoy zombie brain cupcakes!
Looking for your themed cupcake? Our bakers will implement your unique cupcake idea. Find a Cake Maker
Skeleton cupcakes
These cupcakes are decorated with skeletons which can be made of glaze or icing to imitate bones. Skeleton cupcakes must attract the attention of all horror fans.
As a tip, you can use white fondant to create the bones and blood-red frosting to add a spooky effect to these Halloween themed cupcakes.
Bloody cupcakes
Immerse yourself in the world of horror and prepare bloody Halloween cupcakes with a raspberry filling that "bleeds" at the first bite.
Pipe red frosting onto cupcakes and add a chocolate knife or syringe to create the illusion of gore. It can make an impression!
Bat cupcakes
You can impress all your guests by presenting bat Halloween cupcakes. Black wings and deep red eyes will make them the real stars of the evening.
Choose crimson or purple fondant for the dough and create a bat shape. Add comic eyes to make this dessert funny and scary at the same time.
Owl cupcakes
Create these mysterious birds on cupcakes for Halloween using mastic and fondant. Owl cupcakes will display an atmosphere of night and magic.
Using fondant, create feathers and an owl's face on the cream. Also, add illuminated eyes to recreate the magical owl look.
Spider web cupcakes
How can you imagine Halloween without scary spiders and sticky, nasty webs? This decor can be attractive for Halloween spider cupcakes if you make it from your favourite ingredients.
Use lace icing to create a web on the cream. Moreover, add marshmallows or candy spiders to complete the look of spider web cupcakes.
Cat and moon Halloween cupcakes
Make magical moon and cat Halloween mini cupcakes that attract everyone.
For this idea, you'll need black or purple fondant and illuminated moon figurines to create an adorable cat looking at the moon.
Gummy worm cupcakes
In fact, gummy worm dirt cupcakes are also a popular request for All Hallows' Eve.
Create your simple Halloween cupcakes spookier by adding gummy worms that will "sneak" through the sweets.
Green alien cupcakes
As we know, the green aliens play a vital role in Buzz and Woody's adventure in the Toy Story movies. So, liven up your table with green fondant and alien entities imitation.
Add a few drops of green frosting and marshmallows as alien entities, and your Halloween cupcakes will become a real extraterrestrial delicacy.
Monster cupcakes
You can make your cupcakes look like funny or scary monsters using sugar eyes and teeth.
With brightly coloured frosting, you can assemble Halloween monster cupcakes as funny/scary surprises.
Witch hat cupcakes
Witches in striped stockings and cone-shaped hats are a popular Halloween image. Why not move them to sweet cupcakes?
Make Halloween witch cupcakes in the shape of witch hats and add potions that look like candy. Witch hat cupcakes will add a witchy charm to your holiday.
Ghost cupcakes
In general, ghosts made of cream, mastic, meringue, and marshmallows will decorate your Halloween cupcakes.
Using white fondant and black eyes, create friendly Halloween ghost cupcakes that will disappear from your table at dawn.
Vampire cupcakes
It is a great idea to add a gory effect to your Halloween cupcakes by filling them with cherry filling and dusting them with red granulated sugar.
When you dare to bite these vampire cupcakes, you will discover more raspberry jam and chocolate in the middle.
Mummy cupcakes
Wrap mini Halloween cupcakes in fondant in the shape of mummies and add eyes that seem to be looking at you through the bandage.
You have various options to create the eyes for mummy cupcakes, such as candy eyes, candy dots (buttons), and mini chocolate chips. Also, you can get creative by tinting your frosting and piping two dots for the eyes.
Devilish red velvet Halloween cupcakes
Create a mysterious atmosphere with red velvet and fiery elements in the form of pink fondant candle holders.
Many believe red velvet is merely chocolate cake with food colouring, but it's inaccurate. It contains less cocoa than a typical chocolate cake, and the addition of sour cream lends it a tangy quality and a distinctive "velvet" texture. So, these red velvet cupcakes focus on texture and flavour, enhanced by an eye-catching appearance.
Search for a place to share your cupcakes? Give CakerHQ a try! Sign up
Cauldron сupcakes
Add a touch of magic to your holiday by creating chocolate Halloween cupcakes in the form of magical cauldrons with magical ingredients imitation.
Witch cauldron cupcakes are dark chocolate cupcakes with buttercream frosting and spooky sprinkles, all presented in witch cauldron shapes.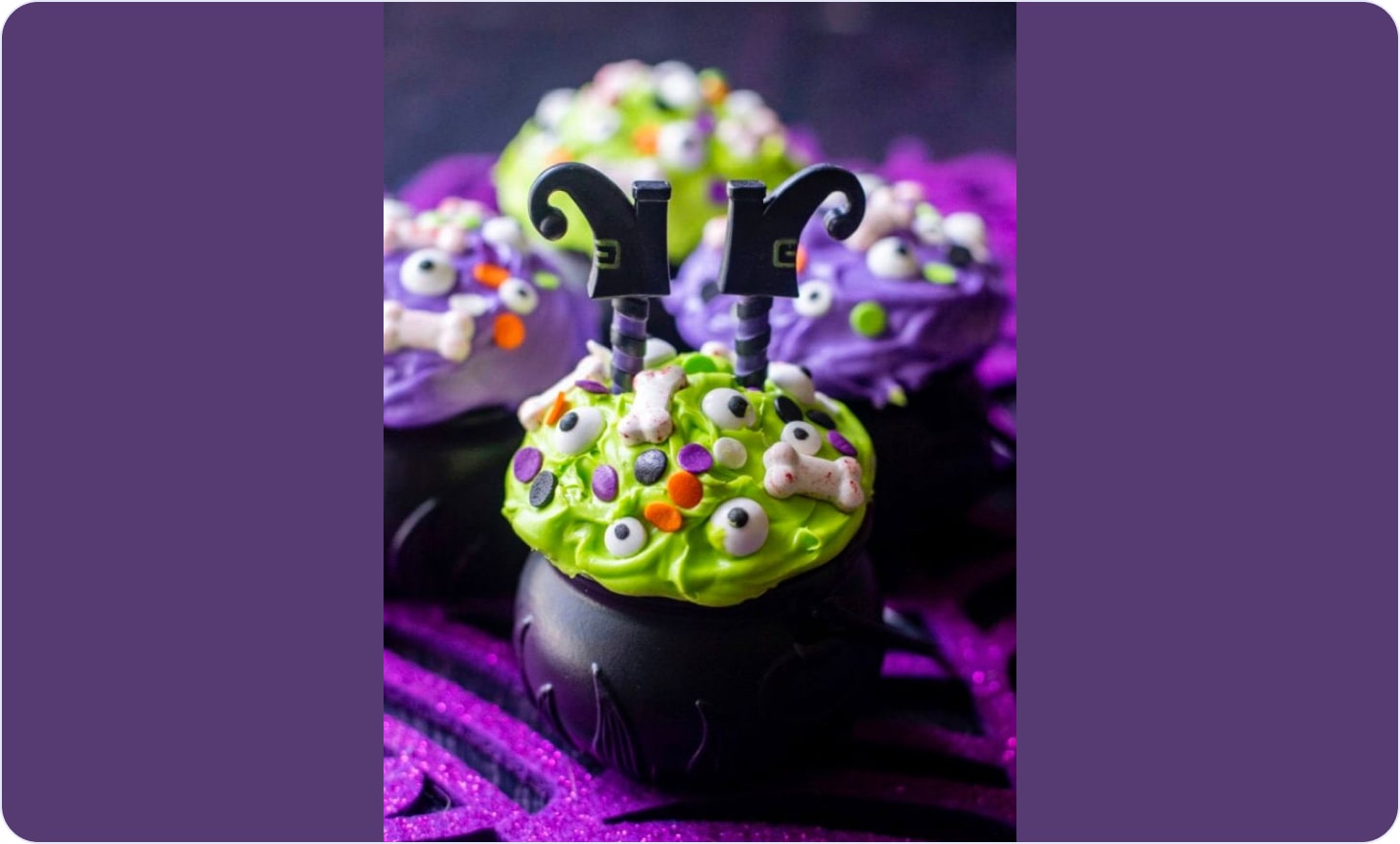 Graveyard cupcakes
And how do you reproduce the picture of the cemetery for Halloween? To create a graveyard feel, top the cupcakes with sugar crosses and chronological stones.
These scary Halloween cupcakes have a white frosting, chocolate crumbs, and chocolate tombstones to resemble a graveyard. Add candy pumpkins and a chocolate tree on top for the finishing look.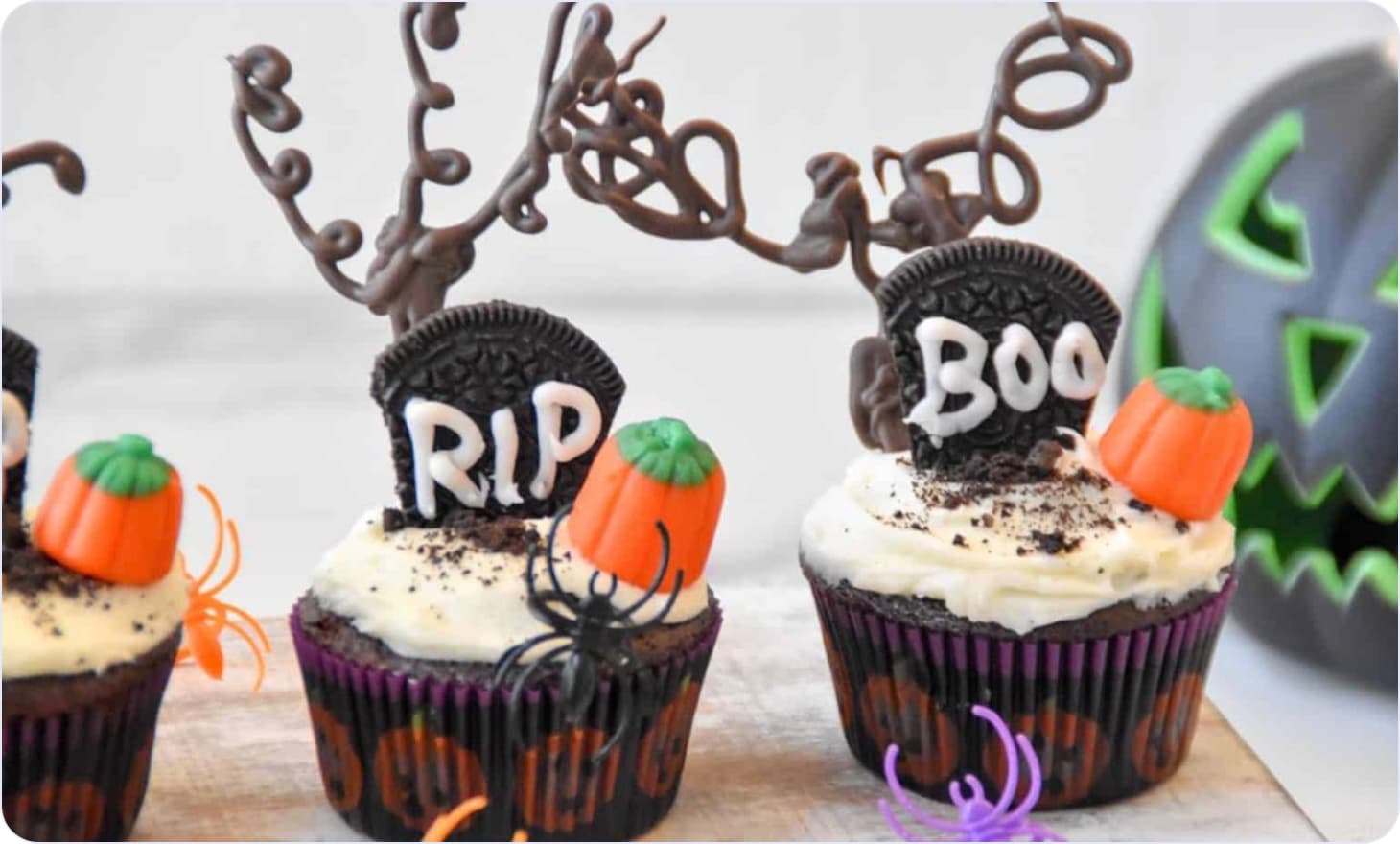 Jack-O-Lantern pumpkin cupcakes
As we know, a Halloween pumpkin with a candle inside is called a Jack Lantern. According to one of the famous legends, a cunning and greedy merchant nicknamed "Stingy Jack" once made a lantern from a turnip, put carbon in it, and has been roaming the Earth ever since. In Australia, like in many other English-speaking countries, this ghost was called "Jack of the Lantern" or simply "Jack O' Lantern".
So, you can make cupcakes for Halloween in the shape of fun Jack-O-Lantern pumpkins with faces, and they are sure to win the hearts of all guests. These Jack-O-Lantern pumpkin cupcakes are incredibly sticky and easy to create.
Frankenstein-inspired cupcakes
In fact, Frankenstein's monster embodies the scientific aspect of science fiction as well as elements of horror. The creation of a monster using scientific methods and the terrible fate of this creature make this image perfect for Halloween when the emphasis is on creepiness and fear.
Decorate Halloween mini cupcakes with chocolate seams and metal bolts to look like Frankenstein's creature. So, these Frankenstein cupcakes are an easy Halloween dessert that kids will especially love. 
Maleficent-inspired cupcakes
Do you know that Maleficent is a mythical figure based on a character from the fairy tale Sleeping Beauty? It has magical elements such as the ability to fly, control over darkness, and other magical powers. This makes it an ideal image for the holiday, which is often associated with magic, spells, and supernatural phenomena.
So, you can make Halloween decorated cupcakes in the shape of a horned Maleficent with red lips and mysterious eyes. Maleficent cupcakes are the perfect mix of spooky and cute! 
Vegan Halloween cupcakes
It is crucial to remember those who follow a vegan diet. Make vegan cupcakes with natural dyes and imitation horror motifs.
For instance, you can enjoy fluffy vegan Halloween cupcakes made with dark chocolate, filled with homemade blackberry coulis, and topped with eggless Swiss meringue buttercream frosting and chocolate skulls. They're the perfect spooky treat for Halloween!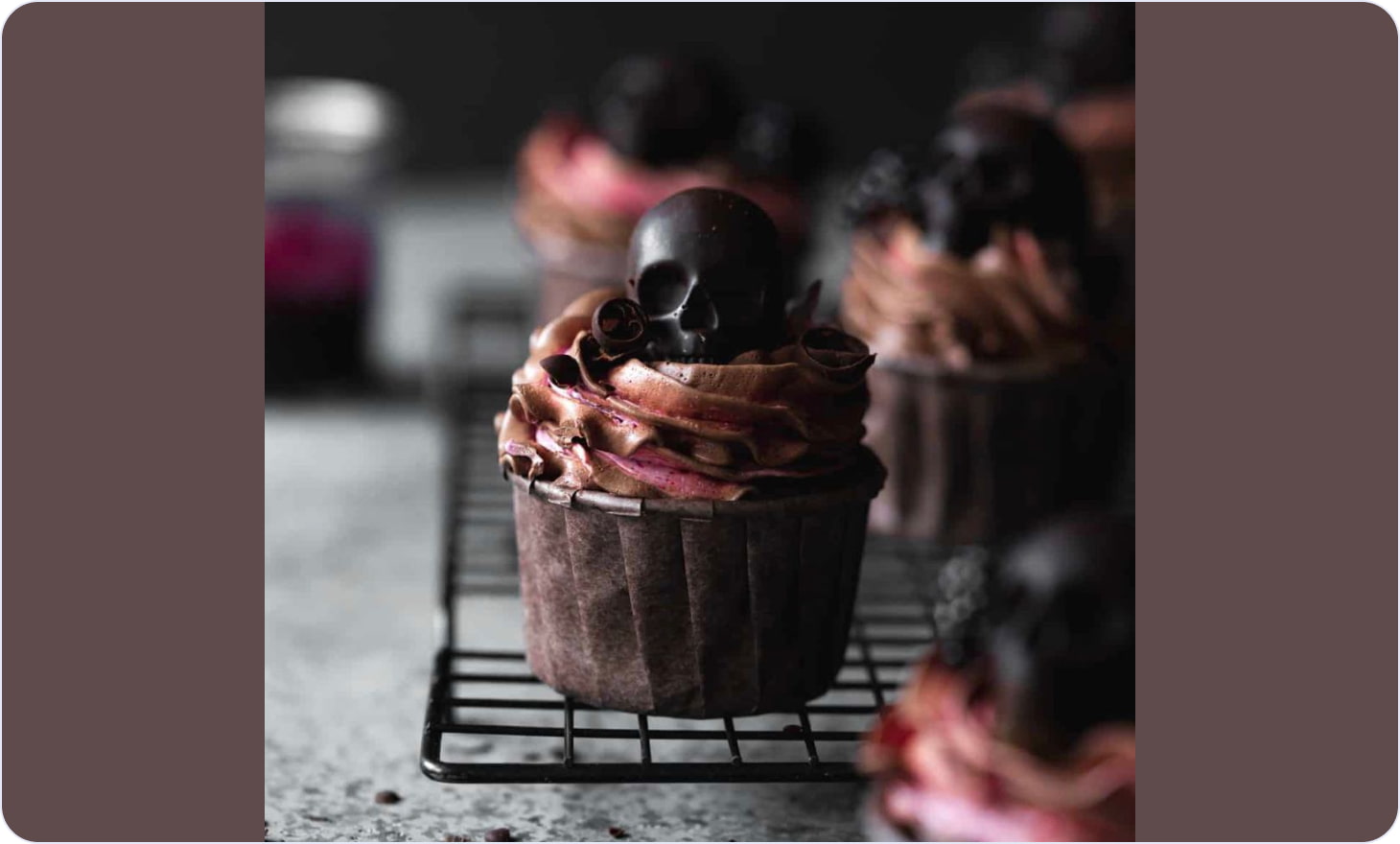 Valuable tips to implement the best Halloween cupcakes ideas
When preparing for the Halloween celebration, cupcakes can be an excellent and delicious addition to your holiday table. Not only do they look incredibly creative and impressive, but they can also delight the taste buds of your family, friends, and guests.
Here are some helpful recommendations to help you make the best Halloween cupcakes:
Choose a base recipe: Start with a standard cupcake recipe or choose a chocolate, vanilla, or red velvet variation. Thus, you will make the base tasty and textured.
Cupcake tin: Choose a suitable baking tin - standard cupcake tins are usually used.
Colour and decoration: Various colour gels for making cream decorations and fondant will allow you to create your artistic masterpieces. Do not hesitate to choose bright and unusual colours to emphasise the theme of the holiday.
Themed decorations: Use themed decorations such as candy eyes, skull treats, marshmallow bats, or aliens to give your mini Halloween cupcakes a festive feel.
Texture techniques: Playing with texture is always interesting. Add frosting, create textures on the cupcakes with cut-out fondant, or cover them with a web of fondant strands.
Fillings: Different fillings can make cupcakes even tastier and more enjoyable. For example, use raspberry or chocolate jam to create a zombie brain inside, or just add some delicious cream.
Creativity in the shape: The shape of the cupcakes can also play an important role. Try making cupcakes in the form of a bat, a monster, a skeleton, a witch's hat, or even a picture of the moon.
Follow the style: If you plan to create Halloween decorated cupcakes in a particular style (e.g., "Frankenstein" or "Maleficent"), pay attention to the details and make decorations that will match this style.
Your own experiments: Don't be afraid to experiment and add your exciting Halloween cupcakes decorating ideas. Halloween is a time for creativity and the expression of your imagination.
Enjoy the process: It is essential not only to create beautiful cupcakes but also to enjoy their preparation process. Cooking with family and friends can be the best way to celebrate Halloween.
Let your scary Halloween cupcakes become an attractive holiday decoration and give you and your loved ones delicious moments of joy!
Conclusion: your sweet Halloween cupcake adventure
Halloween is when fantasy flies into the sky, and what previously seemed impossible becomes a reality. And what better way to express your creativity than to create Halloween cupcakes that will impress everyone at the party? In this article, we collect some unique Halloween cupcakes ideas to help you make your celebration even brighter and spookier.
No matter what options you choose, Halloween cupcakes are fun and delicious. Share your creativity and enjoy the spooky atmosphere of the holiday!
For more delicious recipes and baking inspiration, visit our blog. And if you're looking for cake pricing recommendations, check out our comprehensive cake pricing guide.
Looking for your perfect cake?
Our bakers are ready to make you your special cake, just the way you want it!
Frequently Asked
Questions
Frequently Asked Questions
We are here to help you with most frequently questions.
How to make Halloween cupcakes?
Making Halloween cupcakes is a fun and creative baking experience. First, prepare cupcake batter, add food colouring for a spooky touch, and bake and let them cool. Frost with Halloween-themed colours and decorate with candy eyes, gummy worms, or sprinkles. Serve and enjoy your creepy treats.
How to decorate Halloween-themed cupcakes?
Bake your favourite cupcake in Halloween-themed liners, and use frosting as a cupcake base. Create Halloween designs using icing (pumpkins, ghosts). Add edible decorations (candy eyeballs, gummy worms) in Halloween colours. Make or buy fondant toppers in Halloween shapes (witches' hats, skulls).
What is the easiest way to frost cupcakes for Halloween?
Prepare a batch of buttercream frosting and colour it to match your Halloween theme. Fit your piping bag with a tip and fill it with the coloured frosting. Hold the piping bag with one hand and use your other hand to guide the tip. Employ a spatula/butter knife to smooth the frosting, making it neat.
Rate this article!
(0 ratings, average: out of 5)